More about...
instead 35,95 EUR
only from 15,00 EUR
incl. 19 % Tax excl.Shipping costs
You do not have any products in your shopping cart yet.
from 19,95 EUR
incl. 19 % Tax excl.Shipping costs
MANstore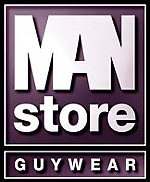 The cult-label MANstore Guywear started into the international fashion-world in the 70s with spectacular underwear for men.
In the first time Star-Designer Paco Rabanne created the collections and new kinds of cut and he is the one who made the first thong for men. In the following time Hans Schöller led the label until his death 1995. Now Alfons Kreuzer continues designing the MANstore collections.
The typical customer for MANstore stuff is extremely addicted to fashion and is always looking for new styles, colours, unusual details and materials.
More sub catagories: