More about...
instead 34,95 EUR
only from 22,22 EUR
incl. 19 % Tax excl.Shipping costs
You do not have any products in your shopping cart yet.
from 19,95 EUR
incl. 19 % Tax excl.Shipping costs
XTG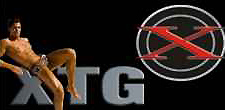 XTG
Underwear collection grows to currently become one of the most important companies on the market being faithful to the transgressor design rules
set by Luis Mentado, designer.
He has created trends introducing different designs to the usual ones full of funny and crazy patterns, which are combined with a large range of colours faithful to its


XTGXTGXTGXTGXTGXTG

slogan,
"Extreme Game"
.



The brand is inspired by tattoos, sporty designs and smart plain clothes.
The collections consist of boxers shorts, classical briefs, T-shirts and short sporty trousers. Its fundamental premise is comfort.
This is why first-class materials have been used in order to manufacture the garments. This kind of material enhances for its softness and fits like a glove,
such as cotton and micro synthetic garments.
It is the first time the company introduces fabrics such as modal (cellulose fibre, known for its flimsiness) or elastic silk in one only upper category design, the Gold Dig.
In a particular way, due to the industrial division of the company, the details are always meticulous: comfortable elastic waistband with the brand or the slogan on it,
clothespins and lengths enhancing the shapes…
Something really special we have to mention is the use, for the first time in some models, of the logo in tattoo or in a stud printing and the kind of dyeing: a high performance spun making the garment specially comfortable.

XTG
offers, besides, a wide range of designs and sizes
(from XS to XL)
suiting to every kind of body. Concerning the basics and the accessories, versatility on design of briefs, T-shirts and shorts makes the
XTG
man possible to use the garments both as underwear and sportswear.
So no time to lose – choose your items from this phantastic collection!
More sub catagories:
New Products