More about...
instead 35,95 EUR
only 25,00 EUR
incl. 19 % Tax excl.Shipping costs
You do not have any products in your shopping cart yet.
from 49,95 EUR
incl. 19 % Tax excl.Shipping costs
M210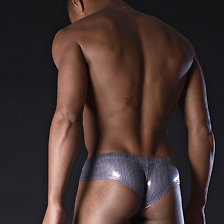 M210
Metallic prints continue to be an important trend. A brilliant version with a lacquer print presents itself here in antique silver. The reflective sheen is enormous and makes every garment sparkle sensationally in the right spotlight. String, Micropo Brief and Apropo Pant play with skimpy, hot shapes, which ultimately show off exactly what is really being packed. The Minipant is somewhat more moderate and goes perfectly with the tanktop and T-shirt. The climax of the series, however, is definitely the Stringbody, which always appears as the perfect fitting top when worn with jeans.
Delivery Date: on stock
| | |
| --- | --- |
| Show 1 to 2 (of in total 2 products) | Sites: 1 |