More about...
instead 30,95 EUR
only from 15,00 EUR
incl. 19 % Tax excl.Shipping costs
You do not have any products in your shopping cart yet.
from 49,95 EUR
incl. 19 % Tax excl.Shipping costs
M243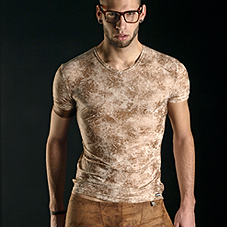 M243
Bison and Sweet-Bison are two fabric versions that can perfectly be combined œ but also do have nothing in common. Bison is a first class imitation of leather, deceptively real-looking in optics and haptics, like a souvenir from the last safari. Thong, brief and pants seem to be lusty leather outfits, but are suitable for machine washing, without losing quality and optics. Sweet Bison is a wafer-thin and bright micro fibre, which is printed all over with a crash leather design. These items do perfectly match with the Bison arti­cles. The light thong body is especially cool with its stripy applications on
the sides.

date of delivery: on stock

| | |
| --- | --- |
| Show 1 to 1 (of in total 1 products) | Sites: 1 |