More about...
instead 41,95 EUR
only from 19,98 EUR
incl. 19 % Tax excl.Shipping costs
You do not have any products in your shopping cart yet.
from 27,95 EUR
incl. 19 % Tax excl.Shipping costs
M211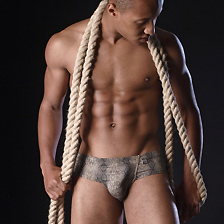 M211
Many people say that the most successful playboys are as seductive as a snake. Any man can really be one with these Manstore briefs. The totally realistic animal print perfectly reproduces the skin of a poisonous snake at any rate. Customer's officers in airports will dive in but be out of luck. The series features various strings, with the Circus String being particularly conspicuous here. It will not only cause a fuss in airports at customs but also at the scanners due to its metal ring at the front. Added to this are two skimpy Panties and a chic Mini Pant.
Delivery Date: on stock
| | |
| --- | --- |
| Show 1 to 2 (of in total 2 products) | Sites: 1 |