More about...
instead 35,95 EUR
only from 15,00 EUR
incl. 19 % Tax excl.Shipping costs
You do not have any products in your shopping cart yet.
from 39,95 EUR
incl. 19 % Tax excl.Shipping costs
M207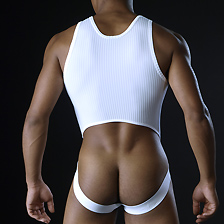 M207


The sporty series, which is cut from a ribbed microfabric, shows itself off in strikingly masculine fashion. A special knitting technology gives the rib a plissé-type looking relief texture, whose lines copy the contours of the body. The dangling arrows on the briefs and boxers catch the eye. They point exactly to where your eyes are drawn anyway due to the skimpy styling. The Marines Shirt is perfect with a wide neckline and very short sleeves. The Jock Body is definitely a collector's item, framing the bum with extra wide straps.
Delivery Date: on stock
| | |
| --- | --- |
| Show 1 to 2 (of in total 2 products) | Sites: 1 |